Dr. José Manuel Avendaño Reyes
Principal of the Mexicali Medical School
January, 2018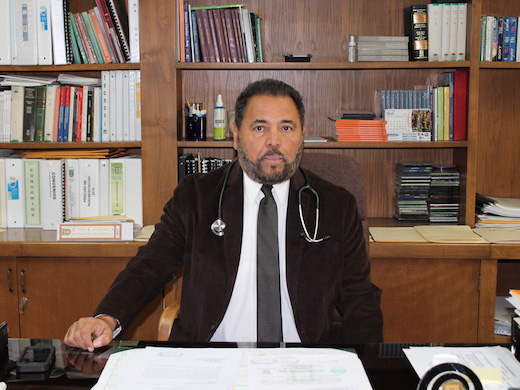 Welcome! We thank you all for visiting the Mexicali Medical School website of the Autonomous University of Baja California.Our institution consists of a truly committed group of academic, administrative and service personnel that does an extraordinary job training health professionals with high standards of quality and excellence, both at the undergraduate level and in the postgraduate area with our master's degrees and medical specialties.
The Medical School is located in Centro Civico, in the heart of Mexicali. We have existed for 46 years. We were founded on September 27th, 1971 as a School of Medicine and we became a Faculty in 1993 after introducing the Master's Degree in Health Sciences.
Our teaching staff is made up of professionals and specialists with great abilities, prestige and an enormous commitment to the comprehensive training of our doctors. Many of them are graduates of this School, with cimarrón blood running through their veins, concerned about the constant improvement of the learning processes as well as the human, ethical and social training of the future doctor. We have 29 full-time professors, most of them with master's or doctoral studies, and 8 belong to the National System of Researchers (SNI). Thanks to this we can provide the essential conditions to support and promote both basic research in laboratories and clinical research.
The study programs of the undergraduate degree respond substantially to the Educational Model of UABC seeking continuous updating in compliance to the institutional requirements and the certifying organizations of medical education. Our study plan is currently certified as a quality program by the Mexican Council for the Accreditation of Medical Education (COMAEM). The academic performance of our graduate students is very good, as indicated by the results issued by the National Center for Evaluation of Higher Education (EGEL-CENEVAL). We have achieved Level 1 for the fifth consecutive year, which earned us the incorporation to the Register of High Academic Performance Bachelor Programs. Finally, according to the 2017 ranking of the best Schools of Medicine in Mexico prepared by the ENARM, ours is positioned as one of the 10 best Schools in the country amongst more than 100 Private and public schools in the nation.
We also offer a Master's Degree program in Medical Sciences and we participate in the training of specialist doctors in different areas of medicine in collaboration with the main hospitals and health institutions in the state of Baja California.
It is a source of pride for us to see how our graduates have managed to join highly specialized programs recognized nationally and internationally. Many of them have returned to our city as extraordinary doctors, both from a professional and a human point of view, providing high-quality medical care and holding important positions in the main public and private health institutions in our community.
This website is intended to be a resource to establish a close communication with our students, graduates and the general public. You will find information related to institutional programs, academic and outreach activities, projects and services.
Welcome!
DR. JOSÉ MANUEL AVENDAÑO REYES
School Principal